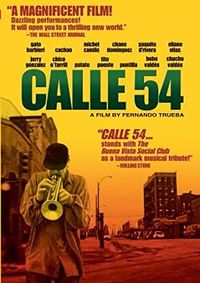 Oh man, I have some memories!  "Calle 54" is an incredible film by Fernando Trueba, and I am playing in the film behind some dark sunglasses with Maestro Chico O'Farrill. 
"CALLE 54....stands with The Buena Vista Social Club as a landmark musical tribute!" - Rolling StoneI 
 
I was blessed to play with The Chico O'Farrill Afro-Cuban Orchestra every Sunday night at Birdland for many years, and recorded two albums with the him, and we also appeared in The Thomas Crown Affair, where Jimmy Cozier and I got a close-up before the famous Ballroom Dance scene.
Playing with him and learning from him his amazing band was like going to Graduate School.  
I remember making this film with Chico, we played the Afro-Cuban Suite that he had written for and recorded it with Charlie Parker.  Besides Chico, appearing also are Paquito D'Rivera, Gato Barbieri, Tito Puentes, Jerry Gonzalez, Chucho Valdes, the legendary Patato and more.  An amazing piece of history.